If you're planning to spruce up your outdoor patio flooring, you should seriously consider using tile. They're easier to maintain than wood and will hold up against the elements better too. Outdoor tiles are also gorgeous with almost limitless design options available. According to the tile specialists at Emser Tile, "Outdoor tile can create a finished look that's a perfect choice for outdoor dining areas, patios, or near pools. Reasons to use outdoor tile include everything from adding style to reducing home maintenance."
However, not all tiles are created equally. Make sure you choose a tile that is specifically made for outdoor flooring. What's so special about outdoor tiles you ask? The experts at Quorn Stone explain, "The biggest difference between indoor and outdoor stone tiles is the thickness. Most exterior [tile] is 20mm or 30mm thick, meaning it can be laid onto compacted hardcore with a sand and cement mix."
Here we've compiled a wide variety of outdoor patio tile ideas we're sure you'll love. There are endless colors, designs, textures, and features to consider. So how do you choose which tiles are best for you? The pros at Tile Club say, "…it is imperative that you choose a smart option that adds a versatile beauty as well as offers great durability." Let's get started with one of the most innovative tiling systems you can use to create your new patio.
17 TILE IDEAS
1. Install Raised Patios with Tile Pedestals Systems
Creating a raised patio with tiles is a relatively new idea. Since becoming more popular in the last several years, there are now a variety of systems available from different manufacturers. There are also many tile materials and designs to choose from so you can create the patio space of your dreams using tile pedestals.
The tile pedestal systems are particularly useful if you're creating a rooftop patio. Installing the tiles on pedestals offers many benefits. The tiles are raised off of the surface beneath allowing for increased airflow. Increased airflow helps prevent water from getting trapped which can lead to a variety of issues, especially on rooftop decks. The tiles used in this design are porcelain with a gorgeous wood look finish that helps bring warmth to the space.
The increased airflow under a raised tile system also helps with temperature regulation. This allows the tiles to remain cooler during the warm summer months. The gray weathered wood look of these raised tiles creates a beachy feel for this backyard patio space.
A raised paver pedestal patio system is super easy to install and doesn't require a ton of DIY experience. The pedestals are adjustable to form a level surface even if the concrete pad below is less than level. They can be adjusted to level out a surface with up to a 5 percent slope. Plus, they have attached spacers that ensure each tile you lay is perfectly spaced.
Paver pedestal systems also allow you to add vertical trim pieces around your finished patio. This helps hide the system and concrete pad below. It also ensures that your patio looks beautiful and has a professional finish once it's complete. I love the wooden beam look of the border they used to complete this deck!
2. Use Versatile Ceramic Tiles
Ceramic tile can be laid on a wide variety of surfaces. It also comes in a wide array of sizes, colors, and finishes.
These stunning large gray tiles have been laid on the grass to connect the two wood-toned patios. Using different tile colors helps add interest to the design. They've even tied in the gray tile color with the border around the pool.
Ceramic tiles can also be laid on sand! These tiles have a wood look finish to them which is reminiscent of a boardwalk. Unlike wood, these ceramic tiles won't rot and will look brand new for years to come.
Laying ceramic tiles on a pea gravel base will help you create a nice level surface. The gravel will also help distribute rainwater to reduce the chances of rainwater puddling on the tiles. I adore the way they've alternated the direction of the wood planks on these tiles to create a parquet pattern!
You can also allow grass to grow between your ceramic tiles. This creates a high-end, expensive look. Adding some green to your patio floor also helps tie in the surrounding landscape and brings life to the entire space.
Ceramic tiles also work for creating a pool deck. This is another application where a gravel base is ideal for helping with water drainage. These tiles have a warm stone finish which pairs great with the white furniture and pool coping. Lighter tiles will also prevent the covered part of the patio from feeling too dark.
The weathered brown wood look on these ceramic tiles ties into this home's design seamlessly! They match the wooden floors inside the home creating a nice flow between the indoor and outdoor living spaces. They also match the tile and wooden wall surrounding the outdoor shower area.
Ceramic tiles also come in a variety of colors you can match to your outdoor décor. They can also be used to add a pop of color to your backyard patio. These patio tiles have a finish that resembles stone. The colors are subtle enough that they can be mixed together in a mosaic without overpowering one another.
3. Keep Your Patio Fresh with Durable Porcelain Tiles
Porcelain tiles are one of the most durable options for your outdoor patio. While they are a little more expensive than ceramic tiles, they will last longer making them worth the investment.
Like ceramic tiles, porcelain tiles come in a variety of styles, sizes, and colors. These porcelain tiles have a wood-like finish. Their size makes them look exactly like wide plank wood flooring. However, these tiles will look brand new for way longer than a wooden deck would.
Here's another type of porcelain that has a wooden finish. The outdoor benches are made with the same tiles as the patio floor, for flawless color matching. I love that they also used the tiles for the walkway, leaving grass between them to help separate it from the patio.
The tiles used for this modern, minimalist patio have a stone-like finish that complements the design. The slight texture on their surface is great for making them slip-proof and creating movement. The gaps they left between the tiles make the pea gravel visible, adding yet another textural element to the design.
These stone-like porcelain tiles are a little smaller and laid slightly closer. They used darker pea gravel underneath the lighter tiles which creates a nice contrast. A tile patio is a great choice for a patio with a fire pit. They can withstand the heat from the fire pit and provide a safe fireproof base.
These dark gray-brown porcelain tiles are ideal for this industrial modern design. The combination of black metal features, concrete walls, and wood elements are all essential for creating an industrial modern space. Leaving grass between the tiles on both the patio and walkway adds an element of color that breathes life into the space.
Like ceramic tiles, porcelain tiles can also be used over sand. Outdoor porcelain tiles will stay cool during hot weather and have a UV-resistant coating to keep the sun from damaging them. These features make porcelain tiles ideal for beach house patios.
Porcelain tiles can help you create designated spaces on a large pea gravel patio space. Here they've used the tile to create a formal dining area and walkways. Adding some planters with small trees and ornamental grasses brings back the outdoor feel to the space without the maintenance cost of a lush garden or huge lawn.
4. Add Color with Slate
Slate has a natural surface texture that is unique to each piece. This can help bring some variation to each tile without the need for color.
The design of these black slate tiles is to die for! They are placed in an arrangement that resembles the texture of crocodile skin which ties in with the large white sculpture in the corner. The contrasting black and white gives this design a contemporary feel.
The color of these slate tiles adds movement to this rustic design. The surface texture makes it slip-resistant. While slate is one of the hardest natural stones you can use, it does have to be sealed periodically to prevent staining.
You can also add some subtle color to your patio with slate tiles. Depending on where they're mined, the colors can vary quite a bit. This Brazilian slate tile has touches of red, orange, and gold throughout, bringing color to the space in a stylish way.
5. Build an Ultra Durable Patio with Granite Tiles
Granite is the hardest natural stone you can use for your patio tiles. If you decide to install granite tiles, make sure they have plenty of texture to prevent slipping when it rains.
These large granite tiles have a lovely mottled pattern of light and dark grays. They add texture to the patio without taking focus away from the alluring stone wall.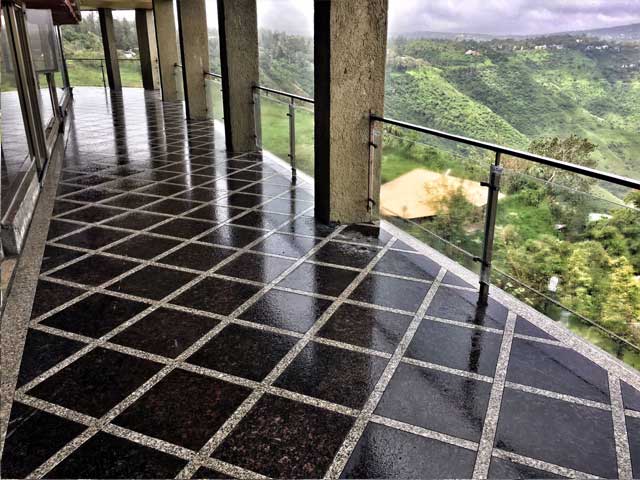 The design of this granite tile patio is to die for! The mixture of light and dark granite with the lattice pattern is a show-stopper. Let's face it, with a view this amazing you have to install an equally appealing patio tile.
6. Create Luxurious Patios with Marble Tiles
Marble is one of the most expensive outdoor tile options but the results are breathtaking! There's no better tile option if you want to create a truly luxuriously feeling patio space.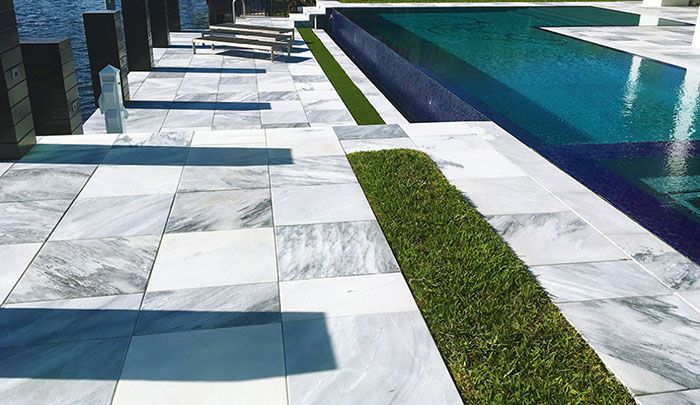 These marble tiles have natural veining of dark and light gray throughout. They mixed in the tiles with less pattern perfectly to create an overall balanced look. If you're not sure about using marble outside, the professionals at Lake Norman Hardscapes say, "Marble is one of the most sought-after natural stones, and it's one of the highest quality materials you can use to pave your patio, backyard, driveway, or any other part of your property."
If you want marble tiles that don't look too busy, choose a style with wider veining. The wider veining still has plenty of character. The large veining throughout these marble tiles brings an elegant touch to the space.
7. Use Quarry Tiles For Warmer Climates
Quarry tile is made in a similar process to how bricks are made. Since they go through a high-heat process when they're made, they hold up very well in areas with hot summers. However, they don't hold up well in extremely cold temperatures.
The most common colors of quarry tile are reds and oranges. Here, they've used two slightly different colors in a random pattern to make the design multidimensional. They even added a few painted tiles throughout for a dash of color.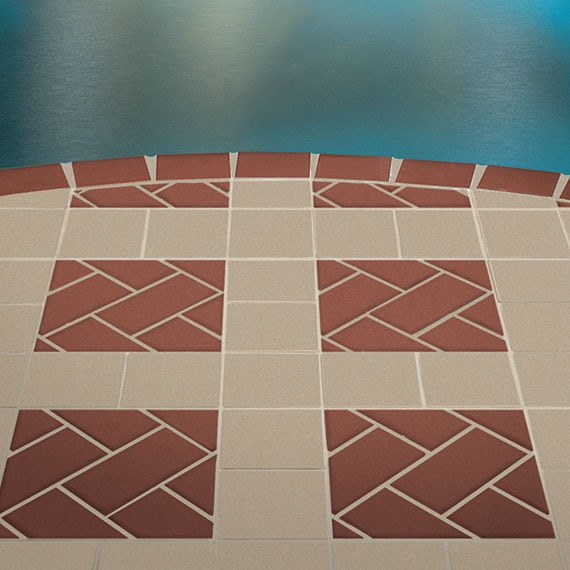 While reds and oranges are the most common quarry tile colors, they're available in a variety of neutral colors too. You can add more character to a patio of quarry tile by combining contrasting tile colors, using different tile sizes, and laying the tiles in different patterns.
8. Revamp Your Patio with Stunning Travertine Tiles
Travertine tile is the softest natural stone you can use. They work best in low-traffic areas or spaces where pets and kids won't be playing around. When it comes to installing a travertine patio, the tile gurus at Tile Outlets of America suggest, "… a Travertine deck should be sealed to protect this stone over time."
Unpolished travertine stone tiles have a natural texture that works great for poolside patios. I love how the subtle, natural colors and patterns are unique to each tile but blend together wonderfully!
They've mixed in some darker travertine into this patio with hints of both brown and gray. Having both cool and warm neutral tones in your patio tile will help keep it timeless. You can literally add any color of furniture to the space and the tiles will complement it. This allows you to change out the furniture when trends change, which is much cheaper and easier than replacing the tile.
9. Experience the Vibrant Beauty of Ageing Soapstone Tile
Soapstone tile is a fabulous option for your patio. According to the craftsmen at M. Teixeira Soapstone, "Non-porous soapstone is perfect for outdoor kitchens, patios, landscape walls, and pool surrounds. Not only is soapstone stain- and chemical-resistant, it will not get slick when exposed to rain and other forms of precipitation."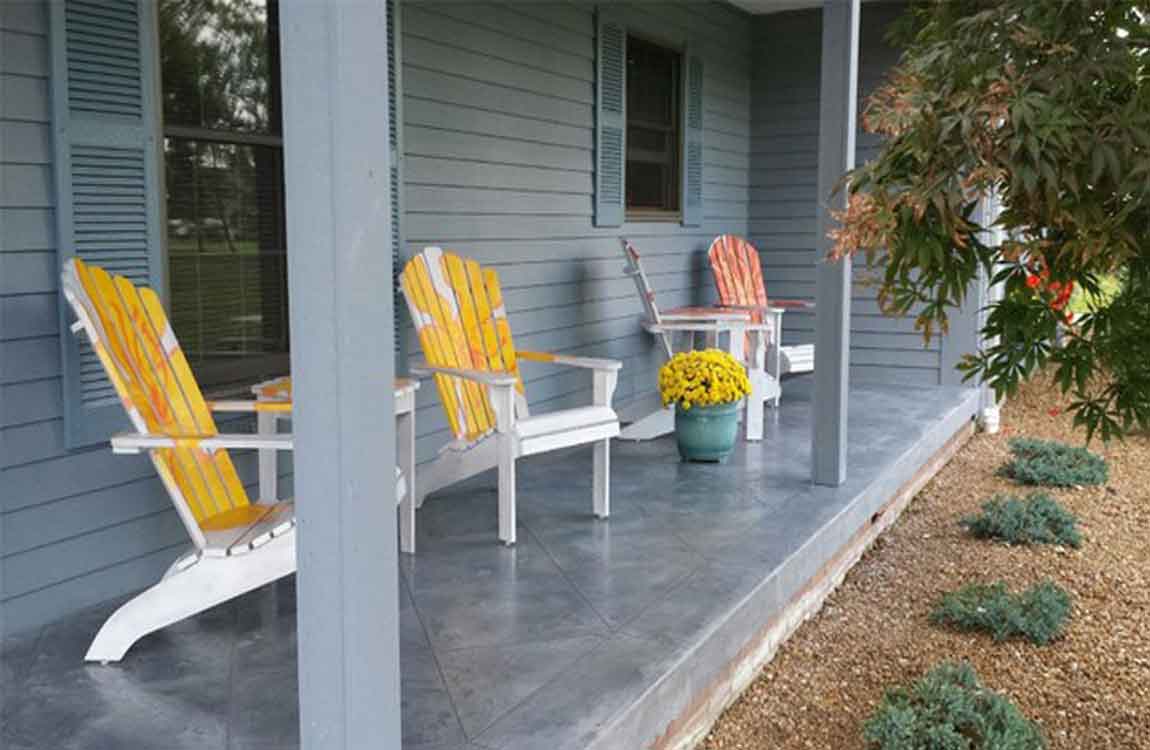 This dreamy gray soapstone tile has a hint of blue. It blends in perfectly with the home's siding, shutters, and columns. This allows the brightly colored chairs to really shine against the muted backdrop of gray.
The veining in this beige soapstone is mesmerizing! It has a timeless look that would work well with a wide variety of design styles from modern to rustic. Soapstone naturally changes color slowly over time which is something you should keep in mind. Its colors will gradually get darker, making them more vibrant as they age.
10. Elevate Your Patio with Sophisticated Limestone Tile
Limestone tile, like quarry tile, works best if you live in an area with mild winters. It has a natural texture that will keep you from slipping and sliding on your patio when it rains.
Limestone features a subtle pattern that blends seamlessly with most designs. The artisans at Impression note, "Limestone flooring is a natural, beautiful option for creating a sophisticated atmosphere in your home. With its muted tones and various styles, it can create a clean, comfortable, and elegant touch for any room."
You can add even more character to a limestone tile patio by mixing different sized tiles together. The resulting pattern is chic and adds more visual interest to the patio floor.
11. Apply the Naturally Unique Patterns of Sandstone Tile
Sandstone tile has similar colors as limestone but the patterns are more exaggerated. If you love the color of limestone but want a more dramatic looking tile, sandstone is the best choice.
The beauty of sandstone tiles is that no two tiles are alike. That means your patio will truly be one of a kind! The professionals at Elite Sandstone say, "Sandstone pavers offer unique color, texture, versatility, and durability for any creative design. They provide an unparalleled charm to any space, outdoors or indoors."
12. Porphyry Tile: A Cousin To Granite
Porphyry tiles are something many people have never heard of, much less considered using. It is made of the exact same minerals as granite, just with a different crystalline structure. Porphyry tends to have more reddish hues, but you can find porphyry tiles in a variety of colors and patterns.
The size of these porphyry tiles and the pattern they're laid in reminds me of brick. They do have a red tint to them but they're so much more diverse than bricks. The variation in textures and colors creates a stellar tapestry across the patio floor.
You can use smaller porphyry tiles like these to create a whimsical mosaic that is utterly outstanding. The muted tones of the tiles allow you to create an absolutely enchanting design!
You can also use different sized porphyry tiles to create a more streamlined design. They've used the large tiles to frame out an area and then run the tiles within it in a different direction. This adds more drama to the overall design.
13. Add Patterns To Patios With Lava Stone Tile
These lava stone tiles are made from a base layer of lava stone. The colors and patterns are then added to the surface using finely ground glass. The resulting texture resembles a delicate lace-like pattern across the surface.
If you love the imperfections associated with handmade tiles, you'll love lava stone tiles. They resemble a work of art that is unmatched by other tiles. Using these tiles on your patio will definitely be a topic of discussion the next time you have guests over.
When you use white glass to create the pattern on top, there's no denying that it looks like lace. Here they've combined a variety of styles together, creating a distinctive look. If you want more uniformity among your patio tiles, stick to a single style and you'll be delighted with the results.
If you don't want your patio tiles to be too decorative, consider using a mixture of plain lava stone tiles with decorative lava stone tiles. The colors will match seamlessly since both tiles have the same base layer. This can also help reduce the overall cost of using lava stone tiles.
Lava stone tiles are available in a wide variety of colors. Don't hesitate to add a splash of color to your patio if it matches your style! The vivid colors and patterns will make the space feel bright and cheery.
14. Beautifying Tiles with Metals
Adding a touch of metallic color to your patio design with tiles is a superb idea. It will give the space a more modern, industrial vibe. The way the light reflects off of the metal will draw even more attention to your patio's tile floor.
To get a 'true' metal effect, you'll likely be limited to ceramic tiles. Other tiles can be painted with metallic paints but we're talking about adding real metal to the tile here. With ceramic tiles, the metal is actually blended into the tile for a look that can't be replicated with paint alone.
15. Go Modern with Encaustic Cement Tiles
Encaustic cement tiles have been around since the 1800s and the way they're made hasn't changed much. The colors and designs on these handmade tiles are created by adding mineral pigments to the molds used to make them.
Encaustic tiles come in any color and design you can imagine! You can actually find some manufacturers who will customize them to your liking. These tiles have a brick color in their design which ties them into the surrounding bricks.
When it comes to colors and patterns with tiles, don't get carried away. If you choose a busier pattern, try to minimize the amount of color on the tile and vice versa. The floral-inspired pattern of these tiles isn't overwhelming since each tile only has a single color.
Encaustic cement tiles look remarkable when painted white. The 3D texture of the tiles creates shadows that bring plenty of color to the design. The resulting look is classic and much more interesting than your standard flat tile.
16. Use Marble Gravel Tiles for Low-Maintenance Patio
Many people shy away from a gravel patio because they worry about the stones getting strewn about or brought indoors on shoes. However, you can use marble gravel tiles to achieve the same look without worrying about the mess.
These tiles combine natural marble gravel and UV-resistant polyurea resin to hold them together. You'll get the same look and feel as a gravel patio without worrying about maintenance. The specialists at Triflex explain, "The special resin does not cause graying and yellowing. The surfaces stay brilliant for many years to come."
17. Add A Tile Rug To Your Outdoor Decor
If you've ever had an outdoor patio rug, you know it can be a pain to keep clean. They often have to be replaced every few years. Why not install a tile rug that's easy to clean and will stand the test of time?
This tile rug has a wood floor look to it which you wouldn't be able to achieve with a normal outdoor rug. It adds warmth and a rustic touch to the patio flawlessly! Plus, if you spill your drink or food on it, you can easily wipe up the mess and go about your day.
You can also use a tile rug to bring a pop of color and interesting patterns to your patio design. This blue and white tile rug matches the furniture and ties in the blue accent wall. Tying elements together like this makes the entire space feel cohesive.