If you're planning to build a homemade shed door, you'll appreciate this extensive collection of shed door designs. Whether you're looking for ideas for a backyard storage shed, a tool shed, or a garden shed, you'll find one door design that is perfect for you. I categorized the designs by type. They can have windows or be solid. They are relatively easy to DIY, and you'll see tons of options for small or large doors, double and single designs, simple and cheap, modern and traditional, and even odd-shaped. I concentrated on the wooden doors. There are also some interesting decorative door ideas. And don't forget to provide means to securely close your shed. When it comes to choosing the best shed door, the experts at Shed Repair LLC say, "The best shed door choice is the one that not only fits the way you want it to look but also provides the best security for your items in storage."

50 DOOR IDEAS
Sheds With Double Doors
Double doors are ideal for a storage shed, making it a breeze to get larger items in and out.
A simple four-panel door is a cheap option that you can liven up by adding contrasting hinges and trim work.
Make a framed midrail shed door with a colonial-style bottom stand out by painting the framing pieces the same color as the door trim.
A few diagonal wood pieces around the shed door handle create a focal point on these framed midrail doors.
This colonial-style door adds some much-needed texture to the shed. Painting it the same color as the shed keeps it from looking too ornate for the overall design.
To tie in the ornate woodwork from a colonial-style shed door to the rest of the structure, consider adding framing patterns on the siding that match the door.
These framed X-style doors are an ode to the stereotypical barn doors that have been popular for decades.
This cool design has a bit more character than other styles because the top and bottom of the doors have different trim work, providing some variation.
Z-style frames help blend double doors together, with the center of the doors being the focal point. X-style doors pull your eye to the center of the X like a bullseye, while the diagonal lines of Z-style pull the focus back to the center of the doors.
The four Z-frames on these double doors make a dramatic statement, creating a star-like pattern that stands out beautifully.
These framed plank doors with the planks running diagonally are wonderful for wooden sheds since they add subtle character to the design.
Give your shed a cottage feel by installing doors with diagonal planks at the bottom and distinctively arched trim at the top.
Adding a transom window to a simple framed midrail door makes it look high-end and ties the doors in with the windows.
The clean, sharp lines of plank doors work well with glass windows, keeping them from overwhelming the minimalist design of this wood-toned shed.
I love the beadboard panels at the bottom of these doors! It adds a great textural element that isn't overpowering since it's painted the same color as the shed.
Having a shed with side doors (on the wide side) will allow you to easily access items stored on either side of the shed without having to move things around to get to the back of the shed.
These gorgeous doors with three large glass panels allow plenty of sunlight into the space allowing it to double as a greenhouse.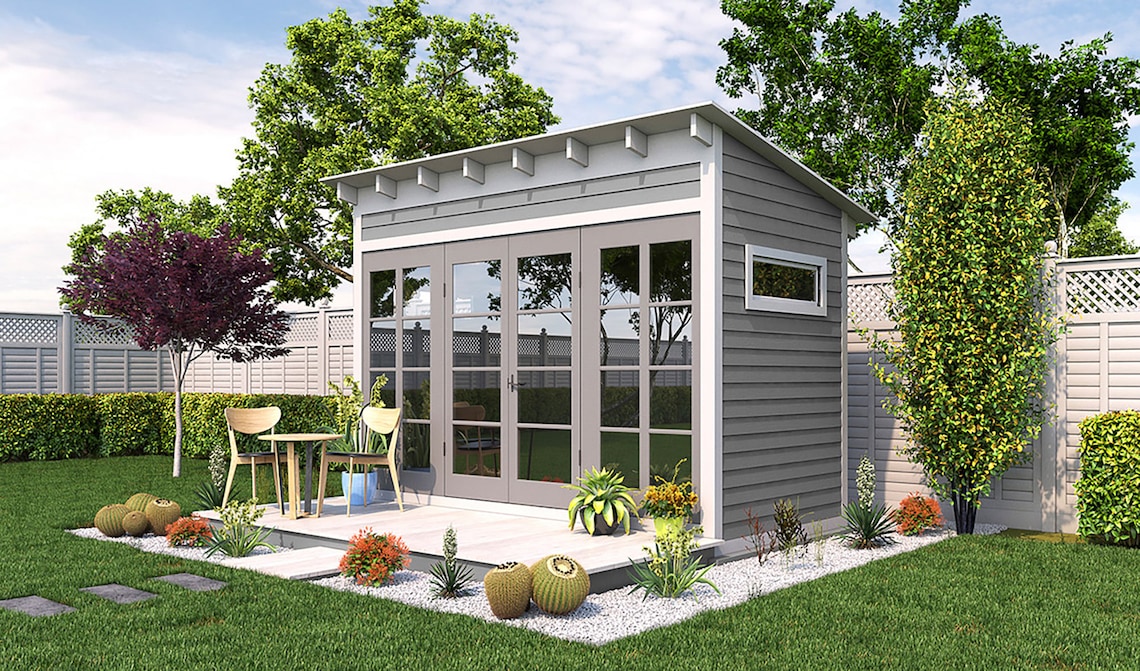 A door that's mostly glass panels is the perfect finishing touch to a modern shed design.
According to the Colorado Shed Company, "A modern garden shed often includes straight clean lines with a lean-to-style roof and lots of windows. A basic, grayish-white color scheme is usually used, but can easily be modified to fit your specific preferences and personality."
Sheds With A Single Door
Adding a single door to a smaller shed gives you more wall space on the inside for storing items.
This shed door has a unique, 5-panel design with the panels stacked horizontally rather than side by side.
By adding end doors (on the short side) to a shed, you give yourself more wall storage space but it may make getting to items stored at the back of the shed harder.
Consider matching door windows to your other shed windows for a more balanced look when the door is offset from the center of the front wall.
This wide panel, unframed door complements the rustic design of this shed flawlessly.
A single door is cheaper to install than double doors. However, if you need a big door for storing larger items, you can install an extra wide single door like this while still keeping costs down.
A Dutch door is an excellent idea for a garden shed, especially if you have pets. You can open the top section to enjoy extra light and airflow while keeping the lower section shut to keep pets out.
The diamond grille pattern on this shed door window contrasts the horizontal and vertical lines of the shed nicely while also complementing the X-style bottom panel of the door.
An unadorned, glass panel door will brighten up your shed's interior and allow other exterior design features to stand out.
While this 9-lite glass door with two lower panels is pretty typical, the paint color choice makes a dramatic statement, brightening up this wooden shed.
Adding a full glass door can turn your shed into a space that can double as a greenhouse during the winter months.
When comparing greenhouses to sheds, the pros at Sheds Unlimited say, "While [greenhouses] are great at facilitating plant growth, they are not as versatile as a plant shed that can help grow plants, store equipment, and even provide space for a relaxing getaway."
I adore that this door design has a transom that matches the windows, planks that match the siding, and white trim that ties everything together stunningly!
Adding windows to shed doors increases their price quite a bit. You can still make your door complement the windows by adding a trim pattern to the door that matches the grille pattern of the windows.
This 9-lite glass door has a lower panel with horizontal planks to match the siding and ornate hardware giving it a country cottage vibe.
Tool Shed Doors
A plank shed door is an easy DIY plan you can build yourself. The back side of the door has a double Z pattern (shown below) which anchors the planks and helps keep them from warping over time.
Turn your door into a more functional feature by adding a hook to the inside where you can hang your gardening hat and other items, improving the storage capacity of your tool shed. Superior Sheds in Orange City, Florida says, "Hooks are another great way to maximize your shed's wall space for storage."
Use your shed door to increase wall hanging space in your tool shed as they've done here, using it as a place to store their hose when it's not in use. Genius!
Adding a framing pattern to the interior of your doors will make them sturdier and make your shed doors look great even when they're open.
Small and Simple Shed Doors
Small sheds are more affordable and can easily fit into smaller backyard spaces. "[A] small storage shed is the ideal answer for homeowners who need a place to store their belongings while still maintaining adequate storage in their backyards", according to the experts at Timberline Barns.
Having a simple plank door with no trim allows the windows and window boxes of your shed to be the primary design features.
There's a lot going on with this shed which has a chicken coop on one side and firewood storage on the other. I'm glad they used a basic plank-style door to keep the design from becoming too busy.
Securing your wooden shed door is important for protecting your stored items from theft. Here they've added security bars over the door and windows to make sure their storage space is protected from intruders.
This horizontal plank door blends in seamlessly with the shed siding for an unembellished design.
These homemade doors have elevated the shed design by incorporating planks with different widths which adds more dimension.
Doors For White Sheds
White shed ideas rely on intricate doors to keep them from appearing plain and boring.
The framing on this door compliments the vertical siding but adds depth to the design so it doesn't fall flat.
The picture windows on these doors help to break up all of the white, while the vertical planks at the bottom contrast with the horizontal siding.
You can also use the hinges and hardware on your doors to add some character to an all-white design.
If you want a bright-colored door that truly pops, an all-white shed will provide you with the perfect backdrop.
Oddly-Shaped Shed Doors
These odd shaped shed doors are slanted at the top to follow the roofline and give the entire structure a more custom, one-of-a-kind design.
The angled corner at the top of these doors is as drastic but they've also added a large diamond pattern on the doors to complement the 45-degree angles of the corners.
Decorative Shed Doors
Decorative doors will help your design feel custom and help you personalize your shed to meet your design style.
When you have doors on different sides of your shed, don't be afraid to utilize different framing patterns on each side. Here they have an arched door on the front and odd-shaped doors on the side. Matching the lower panels on all of the doors helps to meld the two styles together cohesively.
Customize shed doors by adding a phrase or name to them for a personal touch as they've done with this rustic plank design.
These interesting looking doors were built using burnt wood, or yakisugi, which actually prevents termite damage and wood rot. Plus the texture of the carbonization of the wood looks really cool.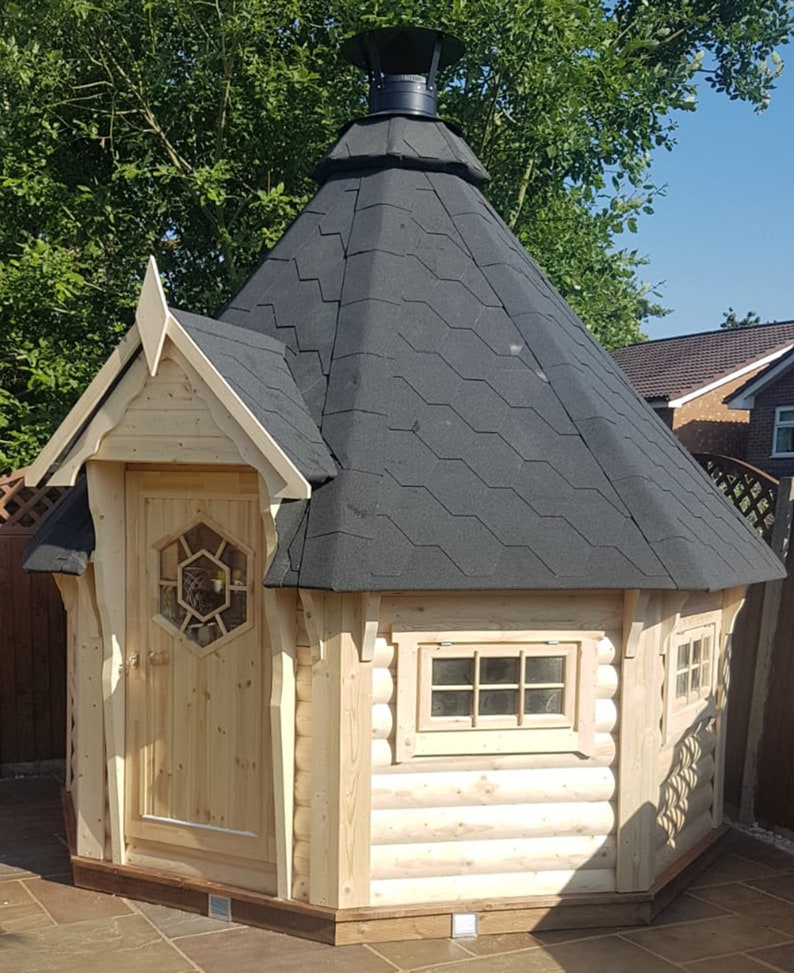 This shed door has a decorative, hexagon-shaped window that looks phenomenal on this log cabin-themed design.
This decorative door has taken shed customization to the extreme! The herringbone pattern is outstanding and the way the tree extends beyond the door makes the door almost invisible.